Apex Event Production provides professional audio, video, lighting and prop design at affordable prices throughout Ohio. We strive to provide each customer with a personalized experience that not only includes the equipment needed to produce a great event, but also answers any questions or concerns along the way. We offer top of the line equipment for the events that require it and also offer more affordable equipment for those that don't.
Our experienced staff has produced a wide variety of events from small backyard weddings to giant corporate events and everything in between. We see the big picture all while focusing on the minor details to make sure your event is exactly as you envisioned.
We also offer equipment rentals at affordable prices for the DIY'ers. These items are available for pickup at our office or can be delivered and picked up from your event if needed.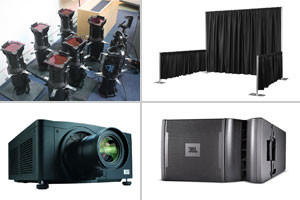 Call us today to start your "personalized experience" and find out why Apex is at the top of the event industry.