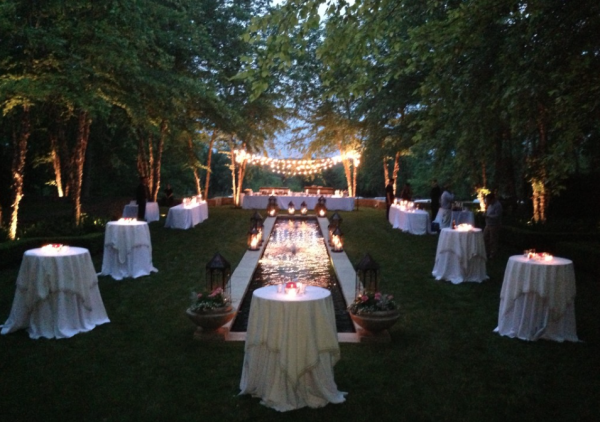 Apex Event Production provides beautiful lights for weddings in central Ohio. Our event directors know wedding planning is hard. So, to make things easier we have listed ways to incorporate lights at indoor wedding, outdoor weddings and receptions. Also you can find photo links to examples at the bottom of this post!
Up lighting may be set to any color. Along the walls or behind the head table at a reception are a few great ways to incorporate up lighting into your wedding.
Bistro lights are beautiful bulbs that hang from the ceilings at indoor weddings, hang above the aisle at outdoor weddings, above dance floors and much more. Our bistro lights are available in white and black strands.
Gobos are great for displaying names and patterns on a wall. Gobos also come in a variety of colors.
Backdrop bistro lights are great for photo booths and other pictures.
Spotlights are used to light up specific spots during weddings and receptions. Especially outdoor weddings at night. Spotlights are also great for the couple's first dance.
Under the table lighting is when up lights are set up under clear dessert tables and gift tables. Putting lights under a table makes your dessert tables look extra appetizing. Yum!
Lights at your wedding will make your special night feel extra magical. To learn more about reserving lights for your wedding in central Ohio please contact our event directors at Apex Event Production at 614.619.3409. Also please click on our extra links below to see more examples of lights at events.